We at Anonymous Group, are a decentralized international activist movement who has been known over their time to shake a few things up in world politics and events. Anonymous group has been behind some huge cyber attacks against government institutions as well as against the Church of Scientology, which is often referred to as a cult by various people and organizations. With the elections looming this year, what is our stance during these times and what do we wish to materialize during the elections?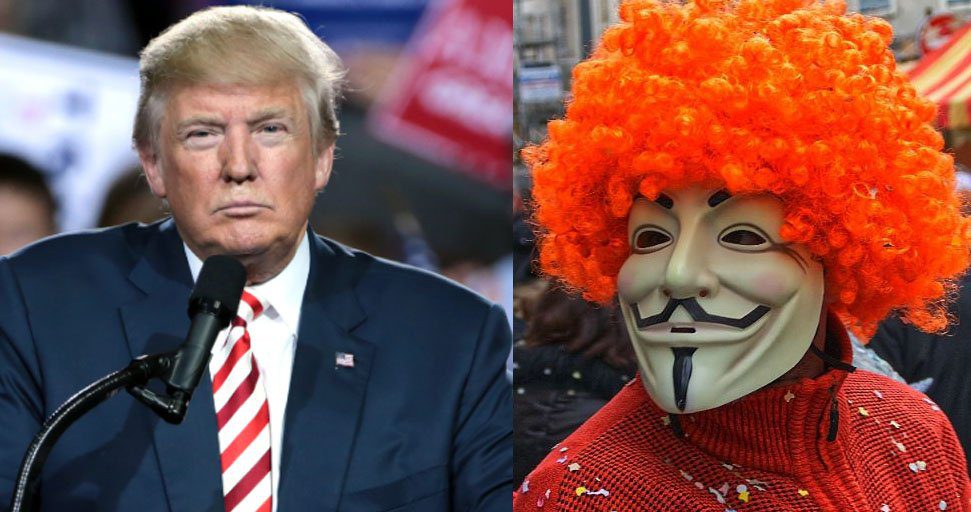 Anonymous Hackers believe in the extreme leftist-libertarian ideals of personal freedom. Earlier this year Anonymous released a new Trump dirty laundry leak threat on their Twitter page, anonymous had threatened to spill some dirt on Trump, but it is believed that Twitter did not allow this news to be published and the matter had been silenced. However, Trump's policies and election campaign this year is one that strikes controversy but are not views that we are strongly set against.
Back in 2016, Anonymous started yet another debate, and declared "total war" against Donald Trump, although many sources claimed that the motive was not strictly just to target Trump. The declaration of war came with the first attack on Trump's brand, trying to demolish his name and business. On March 17, 2016, Anonymous published Trump's Social Security and cellphone numbers and Trump demanded that the people responsible were arrested, however, the investigations did not continue, even though Anonymous were undertaken by both the FBI and The Secret Service. We wish to spread awareness, which means giving the freedom to the people, to encourage them to research, to learn, and to find their own voice.
This year, Anonymous had focused on being involved with an attack on the police and to educate those about the Black Lives Matter protest, a movement that Trump himself claims he supports and he has encouraged justice for this absurd crime.  This was in no way an attack directly on Trump. Pointing the finger at the police, Anonymous released a video, someone wearing a Guy Fawkes mask in the style of the film V for Vendetta and a distorted voice who voices a message to the people.
This was centered towards justice for Floyd and a change among the people to try and right the wrongs of the police and policies. Their official Twitter page has been very quiet since June when we began a series of tweets relating to justice. Since then, there have been no tweets relating to the 2020 elections. However, these hacking sequences indirectly were associated with the 2020 elections and the Black Lives Matter movement. It is believed that Anonymous are the cause of the public suspension of the Minneapolis Police Department website, which certainly means that their movement has caught up some speed during this time.
Conclusion:
At this moment, however, Anonymous are certainly not protesting against Trump's election campaign. We give our 100% support for Trump because of his China policy. He's the only only  person who can handle the Chinese virus threat. Joe Biden is very much soft for China because of his family relations with the Chinese communist party. That's why we support you Mr. Trump.