Windows is the most popular system in the market for desktop users. The most common threat in the windows OS is speed related issues. In this article, we are sharing some points which you can improve to increase the speed of your Windows operating system.
1. Google Chrome: The main reason behind the slow speed in Windows is Google Chrome. It's a heavy application. When you open Google Chrome, it covers all of your system processing speed. Check out the screenshot below.

You can see most of the memory process covered by Google Chrome. We can probably say Google chrome slows down Windows OS. If you are using a low-end configuration desktop, we recommend you use Mozilla Firefox instead of Chrome.
2. Temporary Files: These files are also another cause of speed-related issues in the Windows OS. When you are using any kind of software tool in the Windows operating system and suddenly close it. It creates temp files in the C drive. If you don't delete these files these files will slow down your PC. So clean these files on a permanent basis.

To clean the temp files press the "Windows+R" button together and press enter. It will open the search box. Then type temp and then press enter. It will open the temporary files folder. You can now select all of these files and delete them. After the deletion, you can see the speed changes in your operating system.
3. Prefetch Files: These files are automatically created when you are booting your system and run applications. When these files deleted your system will work very smoothly.

To remove these files press the "windows+R" button together. It will open the search bar. In search bar type "prefetch" and then press enter. In the next window it will ask admin permission you can click continue. It will open the prefetch folder, now you can select all of these files and delete it.
4. Disk Cleanup: This is process is also important to increase the speed of your operating system. In the disk cleanup everything available which causes the speed related issue.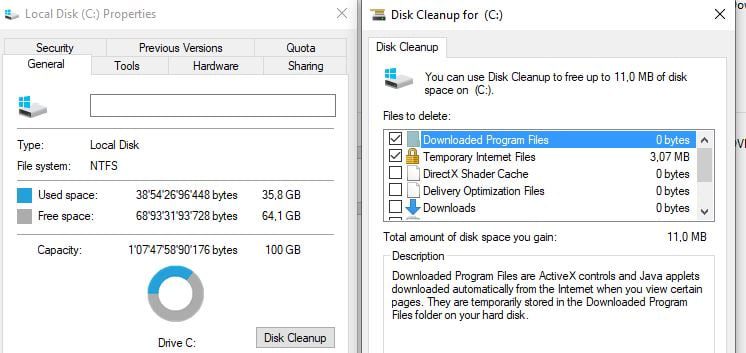 To open disk cleanup go to my computer and select C drive and right-click on it and go to its property. Then select the disk cleanup option. Select all the blocks and click on the ok button. This process will clean your all garbage which causes speed related issues.
5. Browser Extension: Most commonly everyone is nowadays using browsers extensions like Grammarly, ad blocker, etc. These extensions are a very important part of our browser habit.

More extensions will reduce the speed of your OS. It's true. Try to use fewer extensions. These are the most important points which you can use to improve your system speed. For more interesting articles be with us regularly.